G80 Hook Chain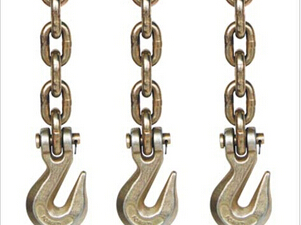 G80 chain With clevis Shortening Grab Hooks,clevis grab hooks, or eye grab hooks on each end.
1)Material: high quality alloy steel 20Mn2
2)Size:1/4",5/16",3/8",1/2",5/8",7mm,8mm,10mm,13mm,16mm,etc.
3)Surface treatment: black,yellow zinc plated, electro galvanized etc.
4)Manufacture standard: EN818-2,ASTM 80,NACM 84/90,NACM 96.
5)Quality Grade:G70,G80.
6)Safety factor : min 3.5 times for G70,min 4 times for G80.
7)Product marking: G70,G80 for identification purposes,or as required.
8)Packing: Steel drum&iron pallet, gunny bag,wooden case,plastic case,etc.
9)We also can make the non-standard chain according to the clients's requirements.
Size

ASTM80

MACM90

MACM96

W.T kg

WLL ld

MBS ld

W.T kg

WLL ld

MBS ld

W.T kg

WLL ld

MBS ld

Pesper Drum

1/4"*14'

5.0

3.150

12.600

4.5

3.150

12.600

4.5

3.150

12.600

50

1/4"*16'

6.0

3.150

12.600

5.0

3.150

12.600

5.0

3.150

12.600

40

5/16"*14'

7.5

4.700

18.800

7.0

4.700

18.800

7.0

4.700

18.800

35

5/16"*16'

8.5

4.700

18.800

8.0

4.700

18.800

8.0

4.700

18.800

30

5/16"*18'

9.5

4.700

18.800

9.0

4.700

18.800

9.0

4.700

18.800

30

5/16"*20'

10.5

4.700

18.800

10.0

4.700

18.800

10.0

4.700

18.800

25

5/16"*25'

13.0

4.700

18.800

12.0

4.700

18.800

12.0

4.700

18.800

20

5/16"*30'

15.5

4.700

18.800

14.5

4.700

18.800

14.5

4.700

18.800

20

3/8"*14'

10.5

6.600

26.400

9.5

6.600

24.400

9.5

6.600

26.400

25

3/8"*16'

12.0

6.600

26.400

11.0

6.600

24.400

11.0

6.600

26.400

20

3/8"*20'

15.0

6.600

26.400

13.5

6.600

24.400

14.5

6.600

26.400

20

3/8"*25

18.5

6.600

26.400

16.5

6.600

24.400

18.0

6.600

26.400

15