PML PERMANENT MAGNET LIFTER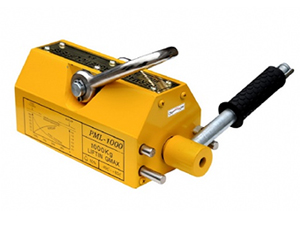 一、Features:
1.Nd-Fe-B Magnet as core component,smaller size,stronger lifting force and lasting magnetic force.
2. High safety factor up to 3.5 times pulling-out force than rated lifting
3. V style design at the bottom of lifter,can lift opposite round steel or steel board
4. Easy to use and free to power
5. Optimized magnetic circuit design makes residual magnetism almost zero
6. Professional appearance design makes product more attractive
二、Usage
Widely use for lifting flat mechanical parts and steel,and in some mechanical manufacturing industries,such as machine-building plant,machining center,shipping building industry etc
三、Quality assurance
1. Magnet:four year warranty under normal usage.(magnetism will loss or even disappear under more than 70℃ and severe crash)
2. Other parts:four year warranty under normal usage
3. It is packed in wooden box package.
Structure Parameter:
Model

Rated Lifting (KG)

Boundary dimension(MM)

MAX Lift

Net Weight

steel plate

cylidrical workpiece

L

B

H

R

KG

KG

PML-1

100

50

95

77

80

155

350

3.5

PML-3

300

150

163

105

110

185

1050

11.5

PML-4

400

200

201

115

115

210

1400

18.2

PML-6

600

300

221

120

125

235

2100

25

PML-10

1000

500

295

145

152

265

3500

48

PML-15

1500

750

313

145

152

350

5000

55

PML-20

2000

1000

360

170

178

426

6000

90

PML-30

3000

1500

460

180

186

520

9000

120

PML-50

5000

2500

660

260

280

650

15000

240

PML-100

10000

5000

870

260

300

750

30000

500