EN818-2 Lifting Chain
Grade 80 lifting chain is a heat-treated alloy steel chain with a high strength to weight ratio. Its strength makes it safe for overhead lifting and lifting chain slings. It's also excellent for uses such as recovery, safety, and towing chains.
Premium quality, high strength alloy chain, heat treated, used in a variety of sling and tie down applications. For overhead lifting applications, only Alloy Chain should be used.
Only chain fully compliant with all aspects of EN818-2 can be used in chain slings certified to EN818-4.
1)Material: high tensile& Heat Treated alloy steel 20Mn2,carbon steel Q235B.
2)Size: 6mm,7mm,8mm,9mm,10mm,12mm,13mm,14mm,16mm,18mm,20mm,22mm,24mm
3)Standard: En818-2
4)Quality Grade: 80,70,43,30
5)Surface treatment: self-color,polishing,black,plastic coating,hot-dip,galvanized,etc.
6)Product marking:G70 for identification purposes,or as required.
7)Packing: Steel drum&iron pallet, gunny bag,wooden case,plastic case,etc.
8)We also can make the non-standard chain according to the clients's requirements.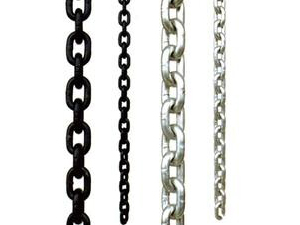 Cade,dimension and propertise
Code

Dia

mm

Pitch

mm

Inside
Min.

Outside
Max

Weight

Kg/m

Working
Load Limit
t

Manuf.
Proof Force
KN

Min Breaking
Force
KN

EN0618

6

18

7.8

22.2

0.80

1.12

28.3

45.2

EN0721

7

21

9.5

25.9

1.10

1.50

38.5

61.6

EN0824

8

24

10.4

29.6

1.40

2.00

50.3

80.4

EN1030

10

30

13

37

2.20

3.15

78.5

126

EN1339

13

39

16.9

48.5

3.80

5.30

133

212

EN1648

16

48

20.8

59.2

5.70

8.00

201

322

EN1957

19

57

24.7

70.3

8.00

11.20

284

454

EN2266

22

66

28.6

81.4

10.80

15.00

380

608

EN2678

26

78

33.8

96.2

15.20

21.20

531

849

EN3296

32

96

41.6

118

23.00

31.50

804

1280