GCT-A hand -pushed trolley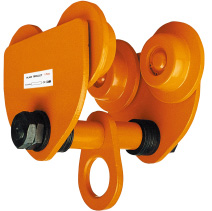 Our company specializing in the production of GCT-A Handcart (GCT-A Monorail car), with the hand thrust as a driver, push hand monorail car to walk freely in beams under the wing of the orbit.Can support the use with chain block or other hoisting tools, device on the monorail or cantilever crane.
Our GCT-A Handcart is mainly used in factories, mines, docks, docks, warehouses and machine room, etc., to install the equipment and the loading and unloading of goods, especially suitable for no power site operation.
The characteristic of GCT-A hand-pushed trolley
1)Compact structure and small installation size;
2)High transmission efficiency, small hand pull;
3)Reasonable design, big ability of tolerance;
4)Wheel spacing adjustment is convenient, applicable to a variety of beams;
5)Can work on the smaller radius of gyration curve.
| | | | | | | |
| --- | --- | --- | --- | --- | --- | --- |
| Lifting capacity(t) | I-beam recommended(mm) | N.W.(kg) | A | B | C | D |
| 0.5 | 68-94 | 4.2 | 189 | 165 | 172 | 108 |
| 1 | 68-100 | 6.2 | 208 | 185 | 208 | 134 |
| 2 | 94-124 | 11.5 | 250 | 226 | 253 | 162 |
| 3 | 116-140 | 20.5 | 288 | 278 | 305 | 191 |
| 5 | 140-180 | 34.5 | 355 | 325 | 369 | 233 |