GCL-B hand-pulled trolley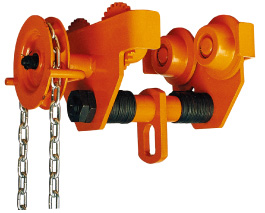 GCL-B Handcart is a kind of hoisting machinery with simple structure, convenient operation supporting , used for lifting goods and equipment , etc.
The GCL-B Handcart that we manufacture is suitable for factories, mines, warehouse, dock, the dock, machine installation, lifting goods, equipment maintenance, etc.
1)The car can be strictly stationary and easy transfer of large objects;
2)Standard wheels anti-cracking and reverse tilting device, to prevent the tilt and cock;
3)With stainless steel hand zippers
4)Can make corresponding adjustment according to the width and slope of the beam.
Lifting capacity(t)

I-beam recommended

N.W.(kg)

Rated
Load(KN)

A

B

C

H

0.5

68-126

7.8

6.25

283

200

200

150

1

80-146

11.2

12.5

317

216

253

170

2

80-168

13

25

360

260

310

180

3

88-168

27

37.5

380

300

357

180

5

100-170

39

62.5

400

345

400

210

10

122-203

86

125

443

395

520

220

20

122-203

220

250

465

630

568

290