Alloy steel chain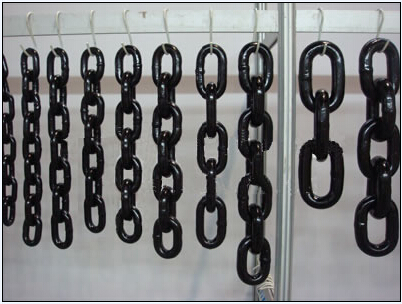 We are lifting chain manufacturer for over 20 years ,we have over 15 Automatic production lines
Alloy steel chains are often used because of their strength, durability, abrasion resistance and ability to conform to the shape of the loads on which they are used. In addition, these slings are able to lift hot materials.
Grade 80 heat-treated alloy steel chain for applications such as slings, lifting assemblies, and load binding. Alloy steel chain is made by the electric welding or gas welding process. The material shall be heat treated which includes quenching and tempering. Material's composition shall conform to the chemical requirements for carbon, phosphorous, sulfur, nickel, chromium, and molybdenum. The material shall conform to the mechanical property requirements for breaking force and elongation and to the dimensional requirements for the appropriate size chain. All chain shall be tested to at least the proof load.
1)Material: high quality alloy steel 20Mn2
2)Size: 6mm,7mm,8mm,9mm,10mm,12mm,13mm,14mm,16mm,18mm,20mm,22mm,24mm
3)Surface treatment: self-color,polishing,black,plastic coating,hot-dip,galvanized,etc.
4)Manufacture standard: EN818-2,ISO,DIN 764,DIN 766,DIN 763,DIN 5685A/C,BS,JIS,ASTM 80,NACM 84/90,NACM 96,
5)Quality Grade:G80,G43
6)Safety factor :min 4 times for G80,min 2 times for G43
7)Product marking: 8, G80 for identification purposes,or as required.
8)Packing: Steel drum&iron pallet, gunny bag,wooden case,plastic case,etc.
9)We also can make the non-standard chain according to the clients's requirements.
10)Usage:Hoist chain, Binder chain ,tie down chain,Lashing chain, transportation chain, transmission, construction, hop decoration, swing, fishing, lifting chain, hardware chain,elevator balance chain etc
Grade 30 chain comes with a zinc plating to offer some corrosion resistance. It is a light-duty chain yet is suitable in many applications for general industry,.farming and homeowners.
Grade 43 ( High Test) galvanized chain to offer great corrosion resistance. It is about 50% stronger than Grade 30 chain and is suitable in many applications for general industry, farming and homeowners.
size dxp
mm

Width


Approx Weight
Kg/m


Working Load
Limit
t

Test Load
KN


Min Breaking Load
KN


Inside min.
a


Outside max
b

6*18

7.5

21

0.79

1.1

27

45.2

7.1*21

9

24.5

1.07

1.5

37

61.6

8*24

10

28

1.38

2

48

80.4

9*27

10.8

30.6

1.75

2.5

62.5

101.7

10*30

12.5

35

2.2

3.2

76

125

11*43

12.6

36.5

2.33

3.8

92

154

12*36

15

42

3.1

4.6

109

181

12.5*38

15.5

42.2

3.3

4.9

117

196

13*39

16.3

46

3.8

5

128

214

14*42

18

49

4.13

6.3

150

250

14*50

17

48

4

6.3

150

250

15*46

20

52

5.17

7

168

280

16*48

20

56

5.63

8

192

320

16*49

24.5

59.5

5.71

8

192

320

16*64

23.9

58.59

5.11

8

192

320