Link Chain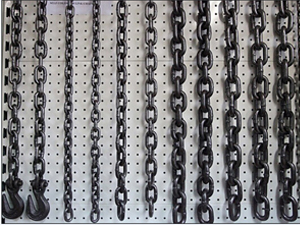 1)We can offer you long link chain, short link chain,round link chain,galvanized link chain,etc.
2)Material: high quality alloy steel 20Mn2,carton steel Q235B
3)Diameter/Size: 6mm,7mm,8mm,9mm,10mm,12mm,13mm,14mm,16mm,18mm,20mm,22mm,24mm
4)Grade: G30, G43, G70, G80
5)Surface treatment: self-color,polishing,black,plastic coating,hot-dip,galvanized,etc.
6) Usage:Hoist chain, Binder chain ,tie down chain,Lashing chain, transportation chain, transmission chain, construction chain, hop decoration, swing chain, fishing chain, lifting chain, hardware chain,elevator balance chain etc
7)Manufacture standard: EN818-2,ISO,DIN 764,DIN 766,DIN 763,DIN 5685A/C,BS,JIS,ASTM 80,NACM 84/90,NACM 96,
8)Safety factor :min 4 times for G80,min 2 times for G43
9)Product marking:8, G80,G70,G43,G30 for identification purposes,or as required.
10)Packing: Steel drum&iron pallet, gunny bag,wooden case,plastic case,etc.
11)We also can make the non-standard chain according to the clients's requirements.
DIN5685A/C SHORT/LONG LINK CHAIN

D
SIZE

L
INSIDE LENGTH

B
OUTSIDE WIDTH

WEIGHT PER 100M


WORKING LOAD


BREAKING LOAD


GRADE

MM

MM

MM

KG

N

N

2

12

22

8

7

6

500

1250

A

C

2.5

14

24

10

11

10

750

2000

A

C

3

16

26

12

16.5

15

1120

2800

A

C

3.5

18

28

14

22.5

20

1500

3850

A

C

4

19

32

16

30

27

2000

5000

A

C

4.5

20

34

18

39.5

35

2500

6300

A

C

5

21

35

20

50

43

3150

7750

A

C

5.5

23

38.5

22

60.5

52

3800

9500

A

C

6

24

42

24

73

63

4500

11500

A

C

6.5

26

45.5

26

86

74

5400

13500

A

C

7

28

49

28

100

86

6000

15000

A

C

8

32

52

32

130

110

8000

20000

A

C

8.5

34

56

34

149

125

9000

22500

A

C

9

36

59

36

165

141

10000

25000

A

C

10

40

65

40

205

175

12500

31000

A

C

11

44

72

44

250

211

15000

38000

A

C

12

48

78

48

290

255

18000

45000

A

C

13

52

82

52

345

295

21200

53000

A

C