ASTM80(G70) Transport chain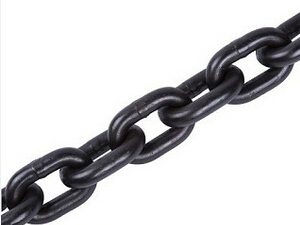 Grade 70 Chain, Grade 70 Transport chain(Flatbed Truck and Trailer Tie-Down Chain for Cargo Control) is considered the chain of choice for load binding applications so also called: tow and binder chain, binding chain, boomer chain, load chain, and coil chain. well suited for tie-downs, towing and logging applications. Its strength to weight ratio exceeds that of Proof Coil and High Test. Grade 70 chain meets Department of Transportation regulations.
1)Material: high quality alloy steel 20Mn2
2)Size: 6mm,7mm,8mm,9mm,10mm,12mm,13mm,14mm,16mm,18mm,20mm,22mm,24mm
3)Surface treatment: Black or Electro-Galvanized or Hot Dipped Galvanized.,etc.
4)Manufacture standard: ASTM 80,NACM 84/90,NACM 96,
5)Quality Grade:G70
6)Safety factor : min 3.5 times for G70.
7)Product marking: G70 for identification purposes,or as required.
8)Packing: Steel drum&iron pallet, gunny bag,wooden case,plastic case,etc.
9)We also can make the non-standard chain according to the clients's requirements.
D
Nominal Size


Working Load Limit(max)


Proof Load (min)


Min.Breaking Load


Weight Per 100'


Inside Length
(max)


Inside Width
(min)

INCHES

MM

KG

LB

KN

LB

KN

LB

KG

LB

MM

INCHES

MM

INCHES

1/4

7.1

1,430

3,150

27.8

6,300

56.0

12,600

34.0

75

21.8

0.86

11.4

0.43

5/16

8.7

2,130

4,700

41.8

9,400

83.6

18,800

50.4

111

25.6

1.01

11.7

0.46

3/8

10.3

2,900

6,600

58.7

13,200

117.4

26,400

71.0

156

30.2

1.19

14.0

0.55