Galvanized Chain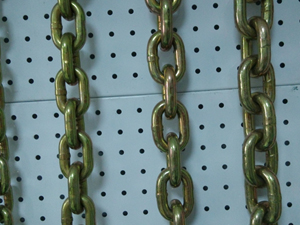 we have both electro-galvanized chain and hot-dip galvanized chain.
Galvanization, or galvanization, is the process of applying a protective zinc coating to steel or iron, to prevent rusting. The most common method is hot-dip galvanization, in which parts are submerged in a bath of molten zinc. Galvanizing protects in two ways:
it forms a coating of corrosion-resistant zinc which prevents corrosive substances from reaching the more delicate part of the metal
the zinc serves as a sacrificial anode so that even if the coating is scratched, the exposed steel will still be protected by the remaining zinc.
1)Material: high quality alloy steel 20Mn2,carbon steel Q235B
2)Size: 6mm,7mm,8mm,9mm,10mm,12mm,13mm,14mm,16mm,18mm,20mm,22mm,24mm
3)Surface treatment: zinc plated,hot-dip,electro-galvanized,etc.
4)Manufacture standard: EN818-2,ISO,DIN 764,DIN 766,DIN 763,DIN 5685A/C,BS,JIS,ASTM 80,NACM 84/90,NACM 96,
5)Quality Grade: G80,G43
6)Safety factor : min 4 times for G80,min 2 times for G43
7)Product marking: 8, G80 for identification purposes,or as required.
8)Packing: Steel drum&iron pallet, gunny bag,wooden case,plastic case,etc.
9)We also can make the non-standard chain according to the clients's requirements.
10)Usage:Hoist chain, Binder chain ,tie down chain,Lashing chain, transportation chain, transmission, construction, hop decoration, swing, fishing, lifting chain, hardware chain,elevator balance chain etc.