ASTM NACM96(G30) Anti-wind Chain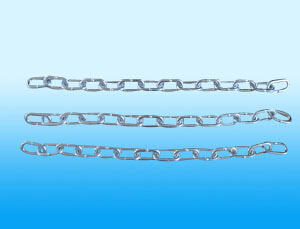 1)Material: carbon steel Q235B
2)Size: 6mm,7mm,8mm,9mm,10mm,12mm,13mm,14mm,16mm,18mm,20mm,22mm,24mm
3)Surface treatment: Self Color,Polished,Black , Electro-Galvanized, Hot Dipped Galvanized.zinc plated,Etc.
4)Manufacture standard: EN818-2,ISO,DIN 764,DIN 766,DIN 763,DIN 5685A/C,BS,JIS,ASTM 80,NACM 84/90,NACM 96,
5)Quality Grade : G30
6)Safety factor : min 1.5 times for G30.
7)Product marking:G30 for identification purposes,or as required.
8)Packing: Steel drum&iron pallet, gunny bag,wooden case,plastic case,etc.
9)We also can make the non-standard chain according to the clients's requirements.
D
Nominal Size


Working Load Limit(max)


Proof Load (min)


Min.Breaking Load


Weight Per 100'


Inside Length
(max)


Inside Width
(min)

INCH

MM

KG

LB

KN

LB

KN

LB

KG

LB

MM

INCH

MM

INCH

1/8

4.0

180

400

3.6

800

7.2

1,600

9.0

19.8

23.9

0.94

6.4

0.25

3/16

5.5

355

800

7.2

1,600

14.4

3,200

18.3

40.3

24.8

0.98

7.7

0.30

1/4

7.0

580

1,300

11.6

2,600

23.2

5,200

30.0

66.1

31.5

1.24

9.8

0.38

5/16

8.4

860

1,900

16.9

3,800

33.8

7,600

43.5

96.0

32.8

1.29

11.2

0.44

3/8

10.0

1,200

2,650

23.6

5,300

47.2

10,600

64.5

142

35.0

1.38

14.0

0.55

7/16

11.9

1,680

3,700

32.9

7,400

65.8

14,800

91.3

201

41.6

1.64

16.5

0.65

1/2

13.0

2,030

4,500

40.0

9,000

80.0

18,000

110

242

45.5

1.79

18.2

0.72

5/8

16.0

3,130

6,900

61.3

13,800

122.6

27,600

162

357

56.0

2.20

20.0

0.79

3/4

20.0

4,800

10,600

94.3

21,200

188.6

42,400

254

560

70.0

2.76

25.0

0.98

7/8

22.0

5,810

12,800

114.1

25,600

228.2

51,200

306

675

77.0

3.03

27.5

1.08

1

26.0

8,140

17,900

159.1

35,800

318.2

71,600

419

924

90.9

3.58

31.7

1.25